Gailor Hunt Featured in Midtown Magazine's 2021 Faces of Raleigh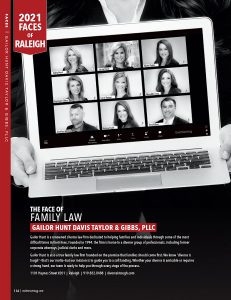 This year, Midtown Magazine featured Gailor Hunt as the Face of Family Law. Every year, Midtown Magazine releases its Faces of Raleigh spotlight to highlight influential leaders in the Raleigh community and showcase the best organizations in the Triangle. With over 140,000 readers for each issue, Midtown Magazine is a respected voice in the Triangle community. 
Gailor Hunt is honored to be included in the 2021 Faces of Raleigh feature and share its services with the Raleigh community and beyond.