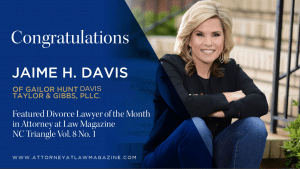 Co-Managing Partner at Gailor Hunt Davis Taylor & Gibbs, PLLC, Jaime Davis, was named the Featured Divorce Lawyer of the Month in Attorney at Law Magazine NC Triangle Vol. 8 No. 1.
In the interview, she discusses the motivation and purpose behind publishing her new book entitled A Year and a Day: Divorce without Destruction, which is based on her podcast of the same name.
As a Raleigh divorce lawyer, Jaime titled her book as a reference to North Carolina's law that requires spouses to be separated a year and a day in order to file for divorce. Since that year is a critical time for the couple to make important decisions about their marriage, she wanted her book to provide information and tips for getting through a separation and divorce without destroying family relationships or the family finances.
During the interview she states, "[The book] is a good reference guide, because it provides a general overview of the law, as well as some tips for how you can navigate the process, and it provides a bit of self-help."
"A Year And A Day: Divorce Without Destruction" is available now. Learn more about the book here.
To read the full interview with Jaime Davis and Attorney at Law Magazine, view the article online or download the pdf.